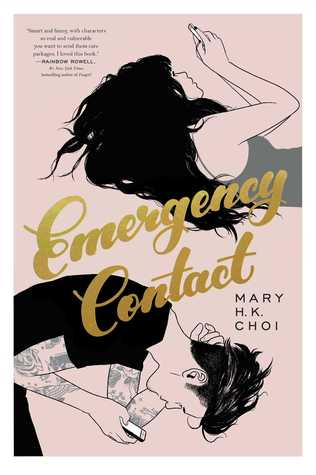 Book: Emergency Contact
Author: Mary H.K. Choi
Publication Date: March 27th, 2018
Publisher: Simon & Schuster Books for Young Readers
First topic to address: have y'all seen this cover? My god. LOOK AT IT. GORGEOUS. I was at my school library sort of lazily running my finger over all the books, and then, I stumbled across this BEAUTY of a book. That has to be the most pretty cover I've seen in my life. ANYWAY, coming to the book.
I read it in less than a day. This book had all my weaknesses. Firstly, the cover. Secondly, a contemporary that isn't just "cute". I mean, it was cute at times, but it was also dark. But at the same time it was also funny and witty and adorable. Also, I loved the whole becoming-friends-over-text. Most of my closest friends live in another country (India), and I only became friends with a couple of them after I moved to Singapore, so I know what it's like to become friends with someone over text, and even to start having feelings for them. And the way the whole feeling was written in this book felt so!! real!! to me!!
The story is about college and teens and awkwardness and growing up. I personally love books based on late teens/early 20's, because you see all these people discovering who they are. And considering I'll be going to college next year, it's both scary and amazing to see how people change in such a short amount of time. We see Sam and Penny grow, learn, and just sort of find themselves. Mainly, they learn that they are not alone. I think that was my favourite lesson in this book. That you never have to go through anything alone.
Talking about the characters. Sam and Penny and Jude and Celeste and all the others. Firstly- all of them were written so well!! All of them were developed and written well, and even secondary characters seemed significant. I adored Sam and Penny. Penny is awkward and funny and intelligent and can also be hateful, but is so adorable honestly. And Sam is firstly, hot, secondly, he's a great texter, he BAKES!!, he's funny and has fluffy hair and wow I really like him. The characters are a bit messed up, very judgey, and often hateful and mean and bitter, but they were all so fleshed out and so not 2 dimensional and felt so much like real people. I do understand why this book can be easy to dislike. The characters are often too judgy, and bordering on toxic and offensive. It would be easy to not like this book. But I feel like that's how people are? We're all a bit mean and irritable and judgey and can sometimes be horrible, but I think that's what makes people worth getting to know and starting to like, because we're more than just that.
I loved the way Sam and Penny met. They meet through a mutual friend, and then one day Sam has a panic attack and faints and Penny happens to be there, basically saves his life while giving all the doctor advice only a true nerd could give whilst simultaneously pulling out food from her magic all containing bag. They become each other's emergency contacts, and text all the time. It's so adorable and so fuzzy and makes me feel so much. It gave me so many feelings and also some nostalgia, and made me so very happy.
Side note: the diversity!! I love!! The Korean-American rep, + no toxic masculinity, + anxiety rep + having close to no money. It covered a lot of ground and I think it did it quite well!
So yeah, though the book isn't perfect, and has it's faults: overly judgy characters, at times a confusing timeline, and at times the relationship felt a bit unbalanced. But it was good enough that I am officially in love with Mary H.K. Choi and am probably gonna buy whatever she writes next.
What did you think of this book? Are you planning on reading it? Do you agree with what I think? Let me know in the comments!
Thanks for reading!
-Rhea