Helloo! Today we're gonna rant about something I'm very passionate about- smashing the patriarchy. Sexist tropes in books are the bane of my existence, and so here I am to rant about what some of them are, and why they need to get the hell out. Let's get to it!
1. Damsel in Distress
Is it even possible for this trope to be more overdone thank it already is? If the only use of a female character is to be saved by some dude in a shining armour, just to prove his strength and courage and what not, we've got a problem. If the only way you can get a female character to contribute to the plot is by getting in trouble sos he can be saved, clearly something is being done wrong, because she can sure as hell do a lot more than that. She may need help at times, but she does not need some guy to rescue her in every damn battle.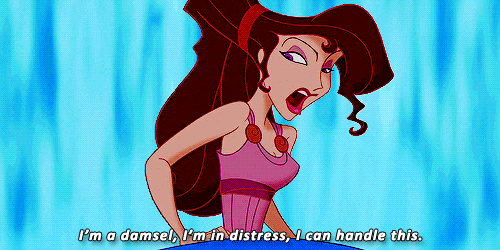 2. The Overly Jealous Boyfriend/Girlfriend
This is pretty common in YA books, and it's normalised like it's no big deal, which really bothers me. There are so many overly jealous and aggressive partners in YA now, and they're usually all male. They imply that if you don't control every aspect of your life, including your girlfriend and HER life, you aren't a "real man". The toxic masculinity in these books is insane, and the way it's normalised makes girls think that that's what they need to look for in a relationship. This trope is toxic, annoying, and just straight up stupid.
3. "I'm not like other girls"
UGFHHF THIS HAS TO BE THE ONE I HATE THE MOST. As if there's something WRONG in being like other girls. This is the "cool" female character who lOVES sports, likes science and math, doesn't wear make up, wears sweatpants, has 7 brothers, and is only friends with guys because girls are "too much drama". I hate this kind of trope, because though there's nothing wrong with any of those things I listed (except the "girls are too much drama"), it makes it seem like a girl who is interested in these things is inherently superior than a girl who likes "girlier" things, as if there's something wrong with liking fashion and makeup and other such stuff. You don't have to be catty to other girls to be friends with guys, and being good at this stuff doesn't set you apart and make you cooler
.
4. The overly hunky, incredibly sexualised guy
This is also super prevalent in YA books these days, and I have to say that Sarah J. Maas is one of those authors. Though I really enjoy her books, some aspects are definitely problematic, especially how every single guy in her book is a muscled, chiseled, broody and hot dude. The way they are talked about is overtly sexual and a bit gross, and it really makes some double standards clear, because if a male author wrote about a female character the same way, he'd probably be facing a lawsuit. It's important for authors to realise that most guys in the real world look nothing like the guys they describe, and all these overly sexualised guys with the personality of potatoes really don't add anything to the plot.
5. Physical Strength > Mental Strength
Nowadays, a character is only considered badass if she can punch through a wall and can fight, but god forbid you be an intelligent and complex character, albeit you can't hold a knife. The ability to fight isn't a personality trait, and just because someone can shoot a gun and kick ass doesn't mean they're super strong. Just because a character can punch someone in the face doesn't make them strong and badass, in fact most of the times, the strongest character is the one who makes all the emotional and morally ambiguous decisions. A character can be badass even if she can't hold a weapon, but has the brains and the mental strength that you actually need to be strong.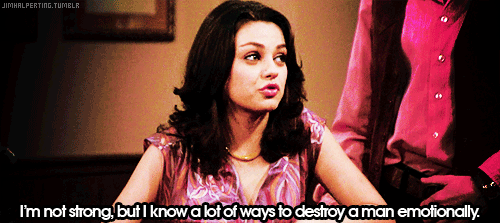 And that's it! I want to recommend some books that I think smash the patriarchy, but I think I'll save that for another post.
What do you think of these tropes? Do you like any of them? Do any of them annoy you? What are some sexist tropes you hate? Let me know in the comments!
Thanks for reading!
-Rhea