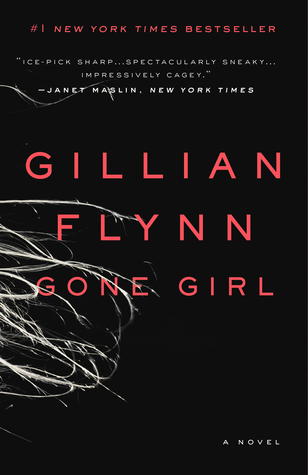 Book- Gone Girl
Author- Gillian Flynn
Publisher- Broadway Books
Publication Date- April 22nd, 2014
Disclaimer: A lot of swearing in this review, bc I don't think any other words can convey the sentiments I'm trying to put across
Let me just straight up say it.  This book is a mindfuck. I've never read anything like this before, and I doubt I ever will, because this was honestly the most twisted, dark, cunning, creative, and never-been-done-before book I've ever read. I don't even think I can put into words why I liked this book so much, because it was so fucked up, so wickedly devious, even writing a review on it seems completely futile, because there aren't enough words in the English language to precisely put across how incredible this book is. I can't fathom the creative cunning and the hours that would have gone into crafting a book this good.
Synopsis from Goodreads:
On a warm summer morning in North Carthage, Missouri, it is Nick and Amy Dunne's fifth wedding anniversary. Presents are being wrapped and reservations are being made when Nick's clever and beautiful wife disappears. Husband-of-the-Year Nick isn't doing himself any favors with cringe-worthy daydreams about the slope and shape of his wife's head, but passages from Amy's diary reveal the alpha-girl perfectionist could have put anyone dangerously on edge. Under mounting pressure from the police and the media—as well as Amy's fiercely doting parents—the town golden boy parades an endless series of lies, deceits, and inappropriate behavior. Nick is oddly evasive, and he's definitely bitter—but is he really a killer?
I only read this book because someone mentioned it in my English class, and suddenly everyone went crazy talking about how incredible and twisted and clever it is, so obviously, I had to find out what all the hype was about.
I wasn't really expecting very much in the beginning, but once I started reading, I was hooked. Right from the beginning of the book, you KNOW stuff is off, there's so much tension, so much weirdness, and there's something about all of the tension that is perversely fascinating. So you keep reading, and the book keeps getting more twisted, and more wicked, and you just CAN'T put it down because of how invested you get in the story. And then a bit of a twist happens, and you think, "huh, that wasn't THAT unexpected, I've totally got this figured out", and you keep reading, thinking you know what's gonna happen. What you don't realise is that Gillian Flynn is manipulating you so subtly throughout the book that she MAKES you believe you have it figured out, but you really, truly don't. And then the ending happens, and you're blown the fuck away, because WHO WOULD HAVE EVER GUESSED. IT'S SO FUCKED UP. I stayed up reading this book till 4 a.m, and I honestly have no regrets, because if this isn't the best thriller I've read, then what is?
Just went back and read that paragraph and it honestly makes no sense, i really don't know how to talk about this book.
Gillian Flynn has crafted every word to manipulate you, to make you believe something, anything except for the truth, and you really won't see any of it coming, even when it's staring you right in the face.  The narrators are so unreliable, and both Nick and Amy are so antagonist-like that you have no idea who to trust. It's genuinely truly insane.
Also, the "Cool Girl" passage?? Can we just- god that is the most iconic monologue that is so rad and revolutionary, and it's already been talked about so much that I don't really know what to say except "WOW." It's so well written and so perceptive and comes in at such a perfect time in the book.
As for who's team I'm on, I don't know?? SPOILER AHEAD, SO ONLY CLICK ON THE ARROW IF YOU'VE READ THE BOOK

Though I think Amy is psychotic and completely cuckoo, she is also a mastermind?? I have so much respect for anyone with that sort of will power and that sort of sheer genius, so I'm gonna have to say team Amy, because, let's face it, Nick was an absolute shit head too. I felt bad for him at times, definitely, but he was also a cheater and kind of an idiot, so I think I'm gonna have to go with the smarter, more entertaining, though a 100% psycho gal.
The bottomline is, you should a 100% read the book, because it is intense and gripping and probably the best book you're gonna read in a long long time. My review doesn't do any justice to the utter perfection that this book is, and is really a hot mess, because it's impossible to talk about this book without giving the whole suspense away.
Have you read the book? What did you think of it? Is the movie worth watching? Let me know in the comments below!
Thanks for reading!
-Rhea