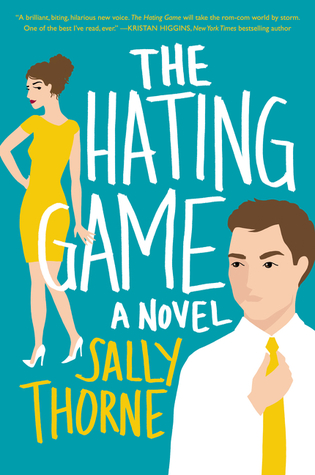 Book- The Hating Game
Author- Sally Thorne
Publisher- William Morrow
Publication Date- August 9th, 2016
Let me start by by saying I am absolute trash for the hate-to-love trope. A lot of tropes annoy me, but I am willing to spend good money to read a good ol' hate-to-love book, and that's probably the reason I ADORED this book. I read this in the middle of the night and spent the entire time giggling and smiling, because this book was just a blast. I don't remember the last time I had so much fun reading a book- it was mindless, trope-y, genuinely funny, smutty but not disgusting, and still gave me a lot of feels.
Synopsis from goodreads:
Nemesis (n.)
1) An opponent or rival whom a person cannot best or overcome;
2) A person's undoing;
3) Joshua Templeman
Lucy Hutton and Joshua Templeman hate each other. Not dislike. Not begrudgingly tolerate. Hate. And they have no problem displaying their feelings through a series of ritualistic passive aggressive maneuvers as they sit across from each other, executive assistants to co-CEOs of a publishing company. Lucy can't understand Joshua's joyless, uptight, meticulous approach to his job. Joshua is clearly baffled by Lucy's overly bright clothes, quirkiness, and Pollyanna attitude.
Now up for the same promotion, their battle of wills has come to a head and Lucy refuses to back down when their latest game could cost her her dream job…But the tension between Lucy and Joshua has also reached its boiling point, and Lucy is discovering that maybe she doesn't hate Joshua. And maybe, he doesn't hate her either. Or maybe this is just another game.
I personally think this book would make an incredible rom-com. It kinda reminds me of Rachel and Gavin's short stint in FRIENDS y'know?  It has the perfect amount of drama, sizzling chemistry, I-hate-you-4-eva mortal rivalry, rude but funny banter, but at the same time so many tender and sweet and adorable moments. Sally's writing style is super breezy and light, and you really fly through the book without a second of boredom.
The book really captures all the obssesive-annoying-jealousy feelings you feel when you're in a new relationship, but at the same time keeps so much of the cute and endearing banter alive right through the book. Hate-to-love books can be so great if they're written well, and imo, this was perfectly paced, and super super addicting. I read it in a matter of hours, because I just had to find out what would happen next, + I'm way too much of a sucker for hate/love situations to be able to put this down.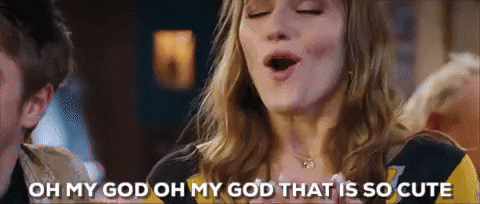 I loved Lucy's character. She was spunky, really funny, and was really sweet and just nice, but also knew how she should be treated. She was a little over-stalkery, ngl, and at times took it over the top, but on the whole I felt she was a really well developed and fleshed out character. I do wish she had more self confidence- I would really love to see a book where the woman knows she's beautiful and owns it, instead of waiting around for some dude to tell her she's hot, but bottom line is I loved her.
Joshua was,,,interesting. He's broody and a bit of a jackass, but he's also really thoughtful and sweet and kind and vulnerable. I have to say that his over-protectiveness and jealousy did annoy me, and I think he snapped wayyy too easily at times, but I actually did quite like his character. He was complex and really layered, and though it doesn't take away his asshole-ness, he did have some valid reasons to be the way he was. Also, he's really hot,,,,so,,,,
I've already talked about how much i love their chemistry and romance, but i honestly can't emphasise it enough. There was so much tension throughout the book, and their attraction for each other was really raw and organic. The smut scenes were plentiful, but were all written well and weren't cringey or cliche in any way, which is a hell lot better than what I can say for many other books.
I honestly adored this book, and yes, it is a tad bit silly and pretty damn unrealisitic, but it's a really fun and drama filled time pass book to get your hands on.
The ending was a tad bit rushed I felt, and I think also pretty unrealisitic. It kinda felt like Thorne was just doing whatever she could to drag in a conclusion, and though it was a happy ending, I would've liked some more build up and fight and feisty-ness to it. But other than that, this book was just a complete blast.
A super light book that'll leave you feeling all happy and smiley, I 100% recommend this banter-filled office romance.
Have you read this book? What did you think? Tell me in the coments below!
Thanks for reading!
-Rhea