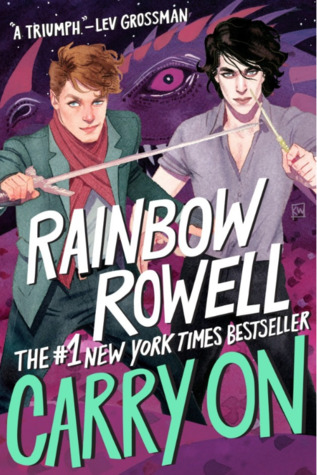 Book- Carry On
Author- Rainbow Rowell
Publisher- St. Martin's Griffin
Publication Date- October 6th, 2015
WARNING: REVIEW CONTAINS EXCESSIVE SWEARING, MANY SPOILERS, AND A LOT OF SCREAMING AND DYING- PROCEED WITH CAUTION
Uhhh WHY DIDN'T I READ THIS SOONER?? To be honest, I had absolutely no plans of reading this book. I'd read (and loved) Fangirl, but I'd skimmed a lot of the Simon and Baz stuff in it cuz I was too invested in Cath and Levi. But I have a friend at school who is absolute TRASH for this book (Hi Ji, I know you're reading this), and her obsession was so wild, it made me pick this up- and THANK GOD IT DID I AM UTTERLY AND COMPLETELY IN LOVE WITH THIS BOOK I'M SO SOFT FOR SIMON AND BAZ AHMYGAWD LET'S GET INTO THE REVIEW.
Synopsis from Goodreads:
Simon Snow is the worst Chosen One who's ever been chosen.
That's what his roommate, Baz, says. And Baz might be evil and a vampire and a complete git, but he's probably right.
Half the time, Simon can't even make his wand work, and the other half, he starts something on fire. His mentor's avoiding him, his girlfriend broke up with him, and there's a magic-eating monster running around, wearing Simon's face. Baz would be having a field day with all this, if he were here — it's their last year at the Watford School of Magicks, and Simon's infuriating nemesis didn't even bother to show up.
Carry On – The Rise and Fall of Simon Snow is a ghost story, a love story and a mystery. It has just as much kissing and talking as you'd expect from a Rainbow Rowell story – but far, far more monsters.
I'm sure you can tell from the synopsis, Rainbow Rowell took a lot of inspiration from Harry Potter while writing this book. Except that it's a hell lot gayer. And the gayer the merrier right? The similarities between Baz and Draco were clear, and honestly, I was hoping Baz would say at some point- "My father will hear about this." Simon was like a Harry on steroids, but only more adorable and angsty, Penelope was a more opinionated Hermione, Ebb was a Hagrid except that she was a girl and took care of goats, and the Mage was a less smart and more chaotic version of Dumbledore.
Yet, there was so much of Carry On that was different from Harry Potter. The two main protagonists were gay, there were POC characters, villains weren't evil for the sake of being evil, the vampire was hot and gay, the female characters weren't carted off to guys just for the sake of a romance, the vampire was hot and gay (yes I will keep mentioning it), and just so much more. Rowell took all the things Rowling did wrong in Harry Potter, and made them all right.
I loved the world building. It wasn't as elaborate as I would've liked, but I think Rowell assumed we would imagine it in a Harry Potter-esque setting, and I'm fine with that. I loved that the spells in the book weren't even actual "spell" spells- they were random idioms shouted out at random times, I loved that Simon- the "Chosen One", was an utter goofball who couldn't control his own magic, and I loved that Rowell included some silly and goofy moments in the book unlike so many authors, because teens ARE silly and goofy.
I adore Simon Snow so much, I will fist fight a goddamned mountain for him. He's a ray of sunshine and is so pure and is such a dork and is just a fu*king snowball I love him with every little piece of my smushed heart. He's kinda like Harry, except he's a lot less annoying, makes even worse decisions, is aggressively gay, and is just the most precious thing in existence. bUT if there's any person I love more than Simon, it's Tyrannus Basilton "Baz" Grimm-Pitch.
If I loved Baz any more, my heart would physically explode out of my chest and would just burst like a fu*king piñata with confetti just flying around everywhere. If I loved Baz any more, I would be Simon Snow. Baz is my favourite human/vampire and there is nothing I want more than that little shits happiness. Baz is such a mood tbh- he wants people to like him without actually showing any part of him that is likeable, while at the same time being a sarcastic little ass who has no tolerance for anyone except Simon. Baz is the literal embodiment of the emotion "I hate him for being a jerk but the poor boy only needs love come here let me love you". DO YOU UNDERSTAND WHAT I'M FEELING RIGHT NOW.
I also loved Penelope- she's a little cloud of cinnamon who is a adorable little angel who just supported Simon through every goddamned thing, and who does not trust Baz but also has the best friendship with him. Enough has been said- I love her.
I don't like Agatha, but I don't blame her for running the fuck away- the poor kid didn't sign up for the crazy mess that came with the magic world.
The Mage was the fucking worst and I would've killed him in the first page of the book if possible- what a DOUCHE THANK FUCK HE'S FICTIONAL OR I WOULD'VE SLAUGHTERED THAT GUY. I hate him whole heartedly and wouldn't blink an eyelash if he careened into the pits of Tartarus in front of my eyes.
I don't know if y'all understand my ALL ENCOMPASSING LOVE FOR SIMON AND BAZ. I will ship them to the ends of the world and beyond, their romance has OVERWHELMED ME AND I WILL BE CRUSHED UNDER THEIR ADORABLENESS FOR FUCKING EVER.
Simon literally spent 99% of his time thinking/daydreaming about Baz and still pretended he ain't in love with the boy like HONEY YOU'VE BEEN DESCRIBING HIS EYES FOR AN HOUR NOW I THINK WE ALL GET IT.
Baz has been secretly except not so secretly in love with Simon for EIGHT YEARS and i love how he just admitted that to us on his first day of school BECAUSE YES THE ANGST AND THE FLUSTER AND THE DREAMILY STARING AND THE HEARTACHE IS WHAT SUSTAINS ME I AM LIVING FOR IT GIVE ME MORE
When Baz called Simon "love" I think I died and my soul left my body
Their make out sessions were the fucking epitome of my existence and I swear to god I couldn't breathe during their first kiss because I forgot how to fucking breathe
can they just kiss for-fucking-ever
I was literally face-planting into a pillow at regular intervals and just grinning and squealing because THEY ARE SO CUTE
I have no fucking chill when it comes to this couple I think my heart and brain exploded from talking about them for so long that is it I am DECEASED.
The climax was bloody brilliant, and the build up was amazing, though it didn't come as a SHOCK to me, I was still a bit stunned when everything fell into place and happened. the ending was also adequately fluffy and adorbs, and my thinking and speaking coherently abilities have been severely compromised, cuz all I want to do is scream.
I don't know. This book wasn't perfect, and the first part was definitely a bit dragged, but honestly, the pros outweigh the cons so much that I can't actually think of anything I don't like cuz I'm too busy freaking out over Simon and Baz. JUST READ THE BOOK OKAY.
JUST. SO MUCH FLUFF AND FLOOF. SO MUCH LOVE FOR THIS BOOK. I'm so glad I read this for pride month, because this has lived up to every expectation and more.
Have you read this book? What did you think? What are you reading for pride month? Tell me in the comments!
Thanks for reading!
-Rhea