Hellooo!! So school's started again, and is taking up all my time as usual, leaving me with close to zero time to blog. But the wonderful Kyera from Kyera's Library tagged me for this, and it's such a short, easy, and fun post to do that I just couldn't pass on it! Do go back and check out her quotes as well!
Rules:
Thank the person who nominated you
Post a quote for 3 consecutive days (1 quote for each day)
Nominate three new bloggers each day
So one of my favourite quotes like EVER is from A Court of Mist and Fury by Sarah J. Maas. The quote is: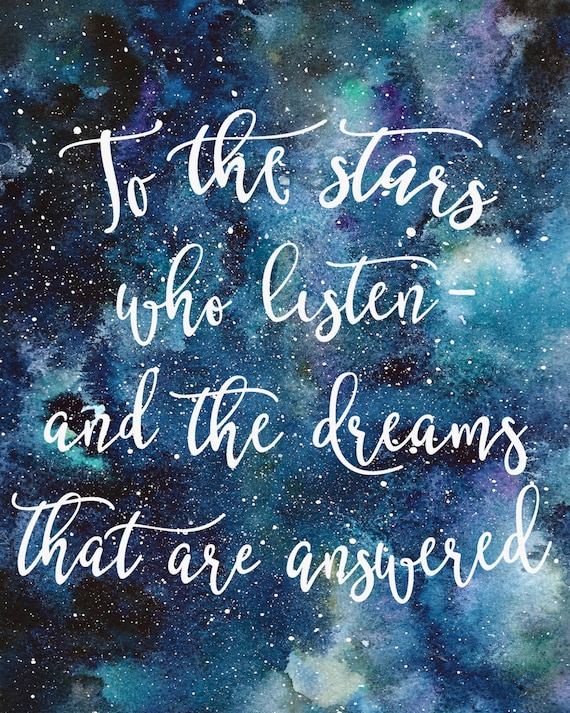 "To the stars who listen- and the dreams that are answered."
Feyre, A Court of Mist and Fury
This is such a beautiful beautiful quote, and gives me so much hope whenever I'm feeling sad. And oh it fits so perfectly with the story and is such a dreamy quote and jkfnjrehiure it makes me really happy. It puts into words my late night thoughts in a way, and I really love that. It kinda gives me hope in a way, that there's something good happening somewhere, and somewhere in the world, someone's dreams are being answered.
I Tag:
Emma from @emmareadstoomuch
Lu from @It's Lu Again
Ioana from @dragonwaffles
And of course, no pressure to do this tag at all, it's just me showing my love for your blogs!
What are some of your favourite quotes? Do you love this quote too? Tell me in the comments! Thanks for reading!
-Rhea