Hey guys!! So I was tagged for this AGES ago by the lovely Taylor from Tay's Infinite Thoughts, who also happens to be the creator of this tag!! Do check her blog out!! There aren't any rules except linking back to the person who tagged you and the creator, so let's get started!
A Book/series that made you smile or laugh

LITERALLY EVERY SINGLE RICK RIORDAN BOOK EVER
I don't know where this man gets his ideas, but every single book he writes has me laughing in splits. The wit, the sarcasm, and the absolutely STUPIDLY HILARIOUS dialogues make me cry of laughter. I'm never gonna be too old for his books.
A Book/series that made you sad or want to cry
Me Before You by Jojo Moyes
I was in a public library when I read the ending of this book, and it was pretty embarrassing when I started bawling my eyes out. Thankfully not many people were near me, but I did get a few concerned looks. This book pained me so much I still haven't been able to pick up After You, even though I really want to.
A Book/series that you love
THEINFERNALDEVICES THE INFERNAL DEVICES THE INFERNAL DEVICES
CAN'T ANSWER THIS SORRY. THERE ARE WAYYYY MORE THAN ONE- All the Shadowhunter books, The Lunar Chronicles, Six of Crows duology, Percy Jackson, ACOTAR, Harry Potter, Strange The Dreamer, and Throne of Glass to name a few…
A Book/series that you didn't particularly like
Illuminae by Jay Kristoff and somebody else but I don't remember who
Meh. I don't get the hype, I had to DNF this book that's how bored I was. #SorryNotSorry
A book/series that was made into a movie that you liked
Literally none. 13 Reasons Why by Jay Asher was made into a T.V show that I liked, but there is no book to movie which I actually liked.
A book/series that was made into a movie that you didn't like
HA. SO MANY. BUT MOST IMPORTANTLY- PERCY JACKSON.
TRASH. UTTER TRASH. NEVER MENTION THIS MOVIE IN FRONT OF ME. THE KIDS WERE SUPPOSED TO BE 12, NOT SEVENTEEN. ANNABETH HAD BLONDE HAIR NOT BROWN. KRONOS WAS A TITAN NOT A LEGO MONSTER. DIONYOSUS WAS A CHARACTER WHO YOU CONVENIENTLY FORGOT YOU KNUCKLEHEADS.
A book/series you have mixed feelings about
The Selection series by Kiera Cass
I'm so conflicted on these books! They were a guilty binge read thing for me and I'd really enjoyed them, but I'd also had so manyyy problems, especially with the last two books. The last two don't even exist for me- I refuse to acknowledge they happened.
A book/series you haven't read but are totally excited about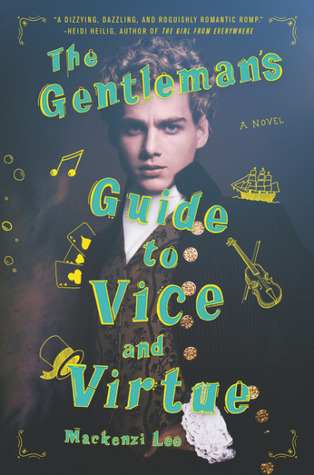 The Gentleman's Guide to Vice and Virtue by Mackenzi Lee
I've heard so manyyyy good things about this and I'm so so excited to read it!! I don't know how, but I will get my hands on it- it sounds AMAZING!!
A book/series that made you angry
Half Girlfriend by Chetan Bhagat
*BREATHES IN DEEPLY* You can read my review on it, I feel you'll understand how angry it makes me when you read it. *angrily mutters under my breath*
A book/series you feel like you can relate to
The Lunar Chronicles by Marissa Meyer
I mainly chose this series because of how much I relate and feel connected to the characters, especially Cinder and Cress. They both are like my soul sisters I love them so much!!
I TAG:
Annalee from Buttons Book Reviews
and anyone else who wants to do this tag!!
Thanks for reading!
-Rhea