Firstly, I apologize for being missing for the past three days- even though that isn't a very long time, it seems like a lot of time away from the blogosphere??? But school is basically trying to drown and kill me with the workload, so I end up occasionally vanishing from here. NOW ONTO THE REVIEW.
Book- When Dimple Met Rishi
Author- Sandhya Menon
Publisher- Simon Pulse
Publication Date- 30th May, 2017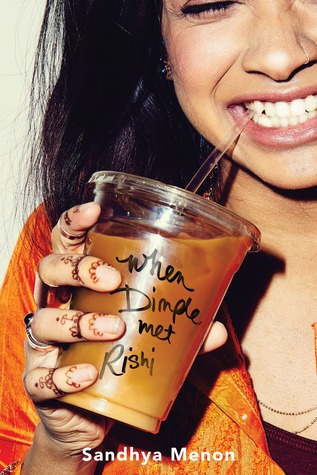 THIS BOOK IS THE REASON WHY I PREFER TO STAY AWAY FROM THE HYPE. I had such high expectations from this book!! I've been wanting to read it since like July, because literally EVERYONE seems to be in love with it. And it's not a BAD book. It was cute, and funny and relatable. It's just not particularly good either. I sure as hell don't see what the rest of the world seems to see in it.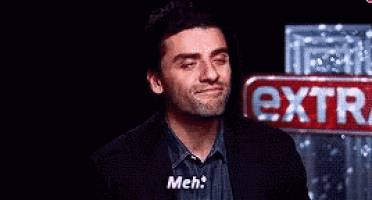 Dimple Shah is your average Indian girl with an above average love for coding, a girl with your typical Indian parents and their typical hunt for the "Ideal Indian Husband". Dimple obviously doesn't have time for all this drama. A serious coder who has cracked her way to Stanford, Dimple wants to be a part of the InsomniaCon web contest even though it costs. A LOT. So imagine Dimple's surprise when her traditional parents say yes! Are they really supporting her coding, or is there something she isn't seeing?
Rishi on the other hand is a hopeless romantic. Living up to his parents expectations since day 1, Rishi is all aboard for arranged marriages, so when he finds out his could be future wife is attending the same summer programme as him, a summer programme called InsominaCon, Rishi can't wait to see what she's like. Except that the girl is our very untraditional and fierce Dimple, who gets all the more fierce when she gets to know just WHY her parents allowed her to InsomniaCon. Will Dimple's annoyance towards Rishi change into friendship? And even if it does, will she be ready to leave her lifelong passion of coding for something that may not last?
What I liked:
I really liked the way the story began. Dimple was a really interesting and fun character, especially considering her very traditional mother. The story started off strong with Dimple and her aversion to all Indian customs, which was actually really funny to read about. Being Indian myself, there were many cultural references I related to and had a really good laugh at. Arranged marriages are very common in India, so it was absolutely hilarious to read about Dimple hating on them on one side, and Rishi totally supporting them on the other. The book did have a plot, atleast in the first half, and that was a light, cheery, and enjoyable story line and kept me pretty interested in it, and also invested in the characters. Also, the book is really easy to read, it's something you can breeze through real quick and pick up for a light and cute read.
I really liked Dimple. Fierce, strong, smart, witty, and oh god SO INDIAN. She doesn't realise it, but honestly, Dimple is as Indian as you can get. Whenever she speaks, it just sounds so Indian in my head??? IDK. But I love that!! I love that they've kept her true to her roots, and have really brought out her culture and who she is as a person. But I also like the fact that she questions a lot of customs and traditions, cuz I do that too, and I loved seeing things I don't agree with being openly put out there in the book. I love that she's so passionate about coding!! Everything computer related is so stereotyped towards boys, so it's great to see a girl light up at the idea of coding, even though I don't relate to that at any level whatsoever. I did get a bit annoyed with her at some parts- I felt she was a bit over dramatic, but eh I can deal with it.
Rishi was the highlight of the book for me. The first thing that stood out to me? HE WAS NOT OVERLY ATTRACTIVE. Average looking boys need to be represented more, cuz not everyone is chiseled AF- I have an entire discussion post on that right here. I love the way he stands up for what he believes in, and he's totally unafraid because of how strong his belief is. And his sarcasm is goals, I LAUGH SO HARD EVERY TIME VENKJENWFERFU. I also lovelovelove how proud he is of Indian culture?? I feel so many Indian teens try to be really western and really look down upon Indian culure cuz some people don't consider it "cool" and I find that so dumb, cuz we have the most diverse, warm, amazing, frejhfbejrwfnipqwpb culture ever, and everyone should be proud of their roots!! And Rishi was also such a hopeless romantic, and he was so cute and sweet and ahhhhhh I JUST WANNA GIVE HIM A HUG HE'S SO NICE. And also a quick word on Ashish- Rishi's brother (is that his name? I hope that's his name. It'll be embarrassing if it's not) He really added some excitement and fun which had been lacking in the second half, especially with all the dance rehearsals he did- I LOVED THOSE.
The romance was cute…upto an extent. I did have some issues but there were many parts I enjoyed.  I'd honestly loved Dimple and Rishi's friendship even more than I had enjoyed their romance. They'd hit off really well as friends, and I'd loved their ease and natural connection together. I'd also loved their romance at many parts- it was quirky, fluffy and really really sweet.
What I Didn't Like:
So as I mentioned in my first paragraph- the book had a plot in the first half. WHICH IT COMPLETELY LOST TRACK OF AFTER IT HIT THE MIDWAY MARK. Idk, the book seemed to just zoom in onto the romance, until it was staring at the romance RIGHT IN THE FACE AND LOOKING DEEP INTO IT'S EYES AND WAS SO FOCUSED ON IT that the plot managed to walk right past and dump itself in a bin. The book became kinda repetitive, and boring, and really cliche after the middle. I enjoy a good romance, BUT NOT WHEN IT EATS UP THE PLOT. I also wasn't a big fan of the writing. I liked some of the quotes, but the writing kinda didn't have a connection with me, which might be why I lost interest after a point.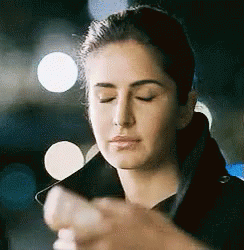 The romance became way too cliche and cheesy and repetitive and unoriginal for my liking, and it started seeming like any other book which had lost it's sense of direction and decided its only salvation is some ugh romance. Like DECIDE kids!!! Do you wanna be together, are you good for each other, is this just a fling, are you breaking up, WHAT?! Stop tangling all of this into an entire mess!
And idk after a point it all kinda got unrealistic and stupid for me?? Weird talent shows, unnecessary drama and 'whatever' dialogues ended with me rolling my eyes a lot.
Though it seems like there's not much I didn't like, all of these things I mentioned were enough to make this book not so enjoyable for me, which is a real let down.
(DID YOU GUYS NOTICE I USED TONS OF BOLLYWOOD GIFS?? THEY ARE SO FUN I CANNOT. I NEED TO USE THEM MORE OFTEN)
Rating:
3 stars. The book was average- pretty meh actually, definitely didn't live up to all that buzz and hype surrounding it. If this is on your TBR, I wouldn't tell you you HAVE to strike it off, but I sure don't think you need to make it a priority!
Did you read this book? Do you plan on reading it? Let's chat!
Thanks for reading!
-Rhea