Book- Cress (#3 in The Lunar Chronicles)
Author- Marissa Meyer
Publisher- Feiwel and Friends
Publication Date- February 4th, 2014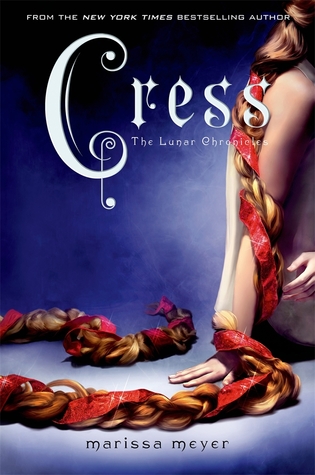 If I wasn't convinced during Scarlet that The Lunar Chronicles is one of the best series ever, Cress really sealed that deal. This book made me the crazy Lunar Chronicles fan that I am today. This book had EVERYTHING. Drama, romance, swoon, action, wit, humour, battles, a damsel in distress, a badass cyborg, an evil psychopathic queen, and I still haven't named half the other things and people in this book. I could go on FOREVER. But I want to write a review, not a book on why Cress was amazing, so let's get this review moving!
Cinder and Captain Thorne, the Commonwealth's most wanted fugitives, are on the run. And this time, they have Scarlet and Wolf in tow. Luna is slowly closing its claws around the Commonwealth, and it's up to Cinder to stop it. And Cinder doesn't just have to save the Commonwealth, she needs to save Emperor Kai from Levana's clutches first, before the cunning queen marries, and then kills Kai. Their best hope of getting into the palace is Cress, a young Lunar who has been imprisoned in a satellite since childhood. What makes Cress so special? That girl is a professional hacker and a mastermind with computers. But when the rescue operation for Cress goes miserably wrong, the group is separated. Their only hope of finding each other is meeting at one of the only safe places for Lunars- a place in Africa, where Dr.Erland is anxiously waiting for Cinder to show up. As they all fall deeper into the dark and complicated plans, and get further entangled into this mess, secrets are revealed and pasts discovered. As Levana gets stronger, the challenges go up and the stakes get higher. None of them had signed up to save the world, but they all may be the only hope the world has left.
What I liked:
HOLY MOTHER OF CHEESE CRACKERS THIS BOOK WAS AMAZING. I couldn't put it down, not for a second. Can we start with appreciating how wonderfully Meyer retells fairytales? This entire series is just as enchanting and magical as the originals, yet each retelling is completely unique and different. The basic outline of the story is the same, but the rest of it is entirely woven by Meyer's wonderful imagination. Rapunzel has always been an amazing fairytale, and Meyer's version has just elevated the original.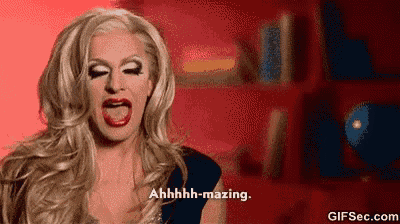 The plot was wonderful. There was so much happening through the book, and I liked that everything the characters did and every step they took was focused towards their goal. Everything in this book had a purpose, and the plot was tight and well structured. The story had a lot of adventure and a lot of sci fi which was pretty cool! The book also didn't only have romantic relationships, which though are great, can get a bit dull sometimes. But this book had so much friendship and love in it,that it brightened up every single element in the book. Things have really started moving faster in this book- there was the desert adventure, the beginning of a soon to be massive space war, and what not. We're getting sooooo close to getting onto the moon and killing that flipping Lunar witch.
Coming to the characters. Oh, Cress- my sweet, romantic, quirky, awkward little friend. This girl has been on a satellite all alone for SEVEN YEARS of her life. Did she lose hope? Not once. She stayed strong and conquered everything that came her way. (not really….she just sat and watched net dramas but still) And ugh she is SO ROMANTIC. She's so in love with Thorne. She's so BLINDLY in love with Thorne. SHE HADN'T EVEN MET THE GUY. But I don't blame her, that's just how dreamy Carswell Thorne is. And because she's been or that damned satellite for seven years…she's a bit socially awkward. Just a bit.  Just a teeeeensy weensy bit. Ya she's definitely a damsel in distress. But she's not any TYPICAL distressed damsel. Nah nah don't make the mistake of thinking that that pretty head is empty, cuz our Cress is a tech savvy, super smart and witty hacker who could take over the world if she wanted. Don't mess with this girl right here.
Another girl you shouldn't mess with is our badass cyborg Cinder. She just gets better and better every book. Wittier, feistier, awkwarder, and just more brave every single time. I adore every single thing about and related to Cinder. Kai is just as cute and sweet and awesome and sassy and amazing in this book. He has a hell lot of stress on his shoulders, the world is trying to arrest the girl he pretends not to be in love with but is totally in love with, not to mention has a raging psycho queen hovering around, so we can't really blame him for being a bit grumpy. Scarlet isn't a major focus in the book because of the failed Save Cress mission and is in a spot of solo trouble, but that's not going to decrease her fiery hot headedness or my love for her!
Wolf is well, sad would be an understatement. He's super mopey and super broody without Scarlet around, BUT GODAMN HE'S STILL SO LOVEABLE. I love love love him, even though he wasn't that big a part in this book! Thorne is well, Thorne. Sarcastic, flirty, charming, and a bit confused with Cress's not so secret obsession for him, he's such an entertainer right through the book. He's super swoony and dreamy, and I do always give a sigh whenever he says a super flirtatiously sweet thing. Levana is still a witch who needs to die- not much of my opinion on her has changed, except that I'm more bloodthirsty for her death.  (I just realized I've talked wayyyy too much about the characters so I'm gonna stop now)
THE ROMANCE. THE SHIPS. SOMEONE KILL ME I CAN'T TAKE ALL THIS CUTENESS. I know there is a lot of controversy about Cresswell because of Cress's age and how she hasn't had much social contact before, and I see where it's coming from, BUT I DON'T CARE. I SHIP THEM BOTH SO HARD. THEY ARE A CUTENESS AND SWOON AND EVERYTHING AMAZING IN THE WORLD OVERLOAD AND I WILL DEFEND THIS SHIP TO MY LAST BREATH. I loveeeeeeee Wolflet. Again, there is controversy here as people think Wolf is way too attached to Scarlet, but…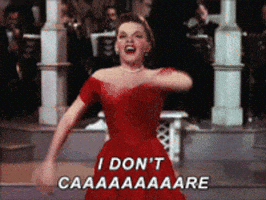 Wolf's devotion to Scarlet is nothing short of adorable and they both are super cute and no one else's arguments matter to me! MY EARS ARE BLOCKED. And finally my favourite ship- Kaider. THESE KIND OF SHIPS GIVE ME UNREALISTIC NOTIONS OF LOVE. WHY MARISSA WHY. I love them both together. The scene when Cinder meets Kai for the first time in months is the most awkwardly adorable scene I have ever read. I ship them more than I ship myself with Zayn Malik, which is realllyyyyyyy saying something.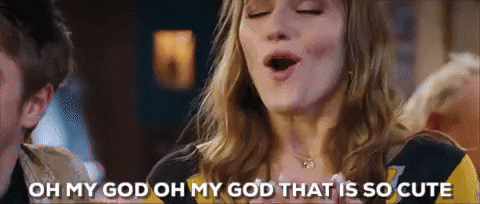 In short, I adored this book, I can't speak about it coherently, I need to start meditating so I can stay calm when I talk about books, AND PLS GO READ THIS IF YOU HAVEN'T YET. GO CHILD GO. THE LUNAR FANDOM AWAITS YOU.
What I didn't like:
Phsssst why is this even a section in my review? DUH IT'S GONNA BE EMPTY. JEEZ.
Rating:
5 out of 5 stars. GO. READ. NOW.
Thanks for reading guys!!!