Hi guys! So today I'm here with an award- the Unique Blogger Award! I was nominated for this by the lovely Rendz from Reading with Rendz, thankyou soooooo much for the nomination!!!! Go check out and follow her blog if you haven't already, her reviews are amazing!!!!!
Rules:
1.Share the link of the blogger who has shown love to you by nominating you.
2.Answer the questions.
3.In the spirit of sharing love and solidarity with our blogging family, nominate 8-13 people for the same award.
Ask them three questions.
Rendz's questions:
Quick Estimate! How many books are on your bookshelf? (Physically)
Roughly around 150 books? I don't have a kindle and I don't read online- I absolutely hate having to read on electronic devices, and really prefer physical copies so I always buy my books or read at a library. Before grade 7, I only read Enid Blyton books, (when I moved this year, I had to leave all of them at a family house) so each of the 150 books on my shelf have been collected over the last three years.
Name one book that totally blew your mind! In what way?
So I'll name one book which blew my mind in a good way and one which did the exact opposite. Clockwork Princess by Cassandra Clare (infact the whole Infernal Devices series) blew my mind in the best way possible. It's one of my favourite books ever, and made me laugh, scream, tore apart my heart, and reduced me to a sobbing mess. I love that book with my heart and soul. A book that blew my mind in a bad way, however, was BZRK by Michael Grant. Ugh where do I even start with that book? I HATED IT. I normally abhor the idea of damaging a book- but oh I would watch that book burn into ashes with glee and a sadistic smile. Dragged, gruesome, and ew, I never plan on touching that book again.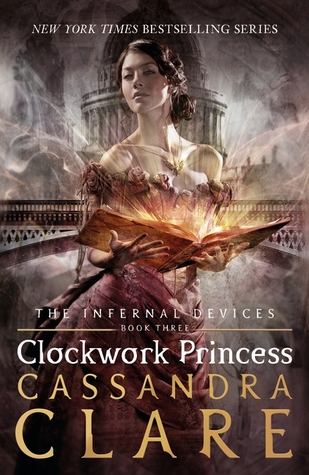 What really attracts you to read a book? A.K.A what is you hook-line-and-sinker?
I usually pick up books after reading the synopsis and a few reviews on goodreads. It also doesn't hurt if the cover is really pretty. But the two things which really attract me to a book is when there is a strong female protagonist in the book and when there is magic. I love reading fantasy books, it's my favourite genre, and a little bit of magic always makes a book so much more amazing! If I see a book with magic- I'm already 60% on my way to picking it up. And I always love a book with a strong female character or a really intelligent female character who doesn't need a knight in shining armor and can actually stand up for herself. (i'm basically describing heroines like Annabeth Chase and Hermione Granger)
So that's all! I nominate:
My Questions:
If you could bring one fictional character to life, who would it be?
What is your favourite part of being a book blogger?
Top 3 books you would never hesitate in rereading?
Thankyou again for nominating me Rendz!! It's great to have support from such wonderful bloggers!!
Thanks for reading guys!!